Natural Element Barns & Barn Homes

Barn Life
A barn, whether it be a home, a workshop, a party space, a show barn, or an event center, is not just a big open building… at least not to us here at Natural Element Barns. A barn is an iconic structure steeped in history and nostalgia. Like an old railroad station, a one-room schoolhouse, and a meeting grange, a barn is amongst the many historical buildings that we recognize and cherish at a glance. At Natural Element Barns, we reach deep into that history and bring the classic barn aesthetic right into our modern living spaces. From the outside, a barn is recognizable by its simple shape and form, but walk inside and the giant beams and traditional wooden joinery can take your breath away. As you go about your daily living in this warmth and simplicity of a traditional timber frame barn, you will be changed for the better every minute of your life in the barn.
Barn Homes
Combining barn and home is as much art as it is science. Getting the right blend of sizes and proportions will pay dividends with the warmth and coziness you feel in your home. Function and livability also play big roles in the development. Barn homes have nearly infinite opportunities to arrange and perfect the living spaces to be just the way you want. We call it being traditional in its character, yet compatible to modern living. Barn living is a wonderful way to bring that touch of history and tradition right into your home and daily living.
Event Barns & Event Centers
It's simply unmistakable that a barn structure naturally makes a great space for gatherings of all sizes. Whether it be for a family party barn, or a commercial event venue, we can design a barn that fits your needs to a tee. Generous open areas, lofts, and open porches are the perfect mix for entertaining and enjoying time together. With your direction, we at Natural Element Barns will design your barn in ways that will make your gatherings as warm and friendly as they can be. How fun it is to have the gathering barn in which friends and family gravitate to and spend time together.
Shared Barns (Barndominiums)
Barn homes, if generously sized, can share space with the playful side of our lives. Workshops, stables, garages, man-caves, and lady lofts, the places we go to play and pursue our special interests, are just as important as the living, dining, and sleeping spaces we use every day. Barn homes have the unique ability to share the space under roof with these activities, and complete the circle of life experience. I encourage anyone building a barn home to consider "what do you do for fun?" and make sure these leisure pursuits are included like there never was a question.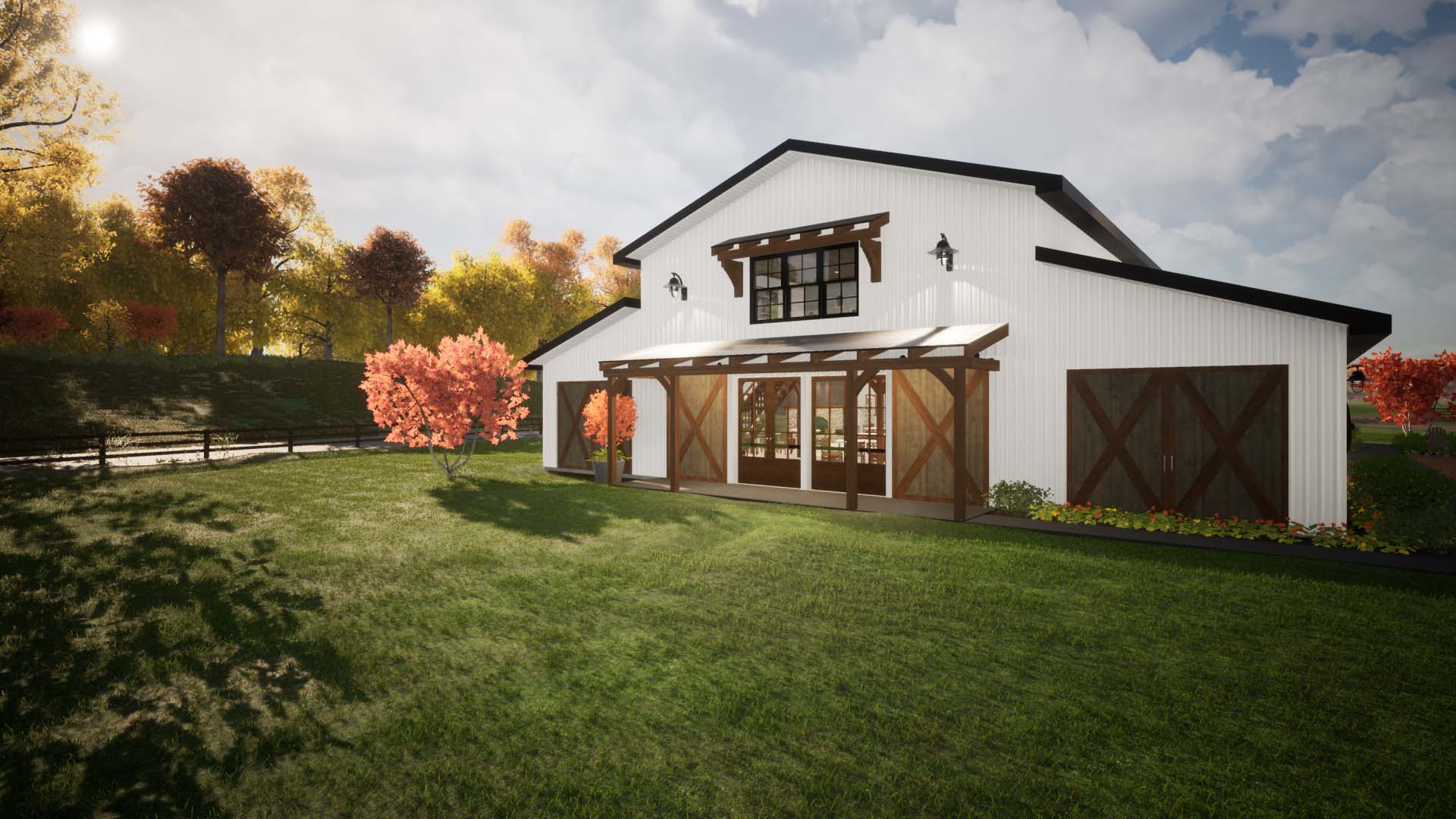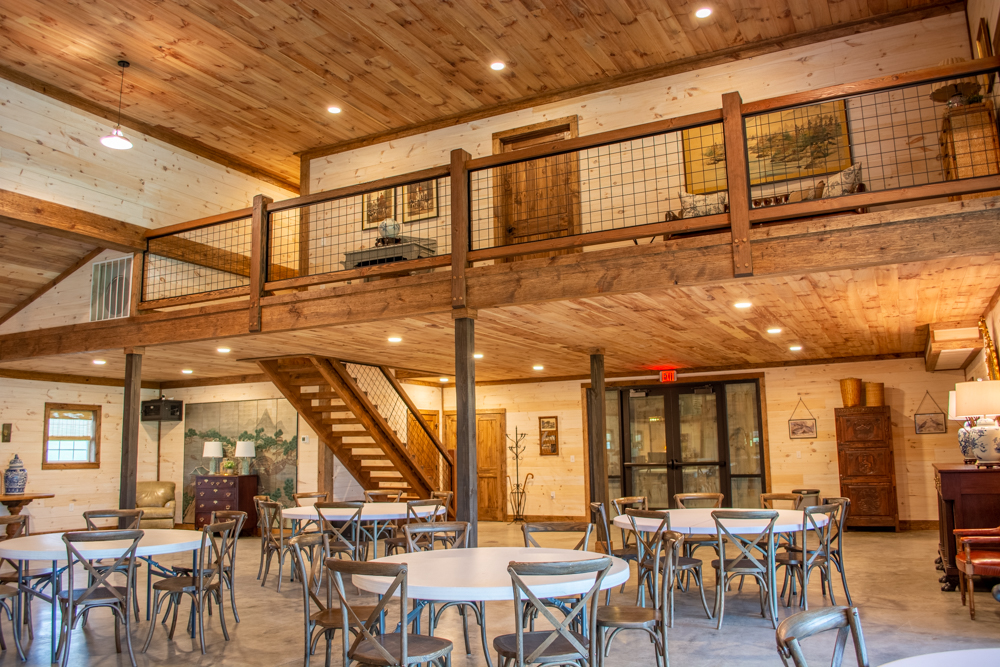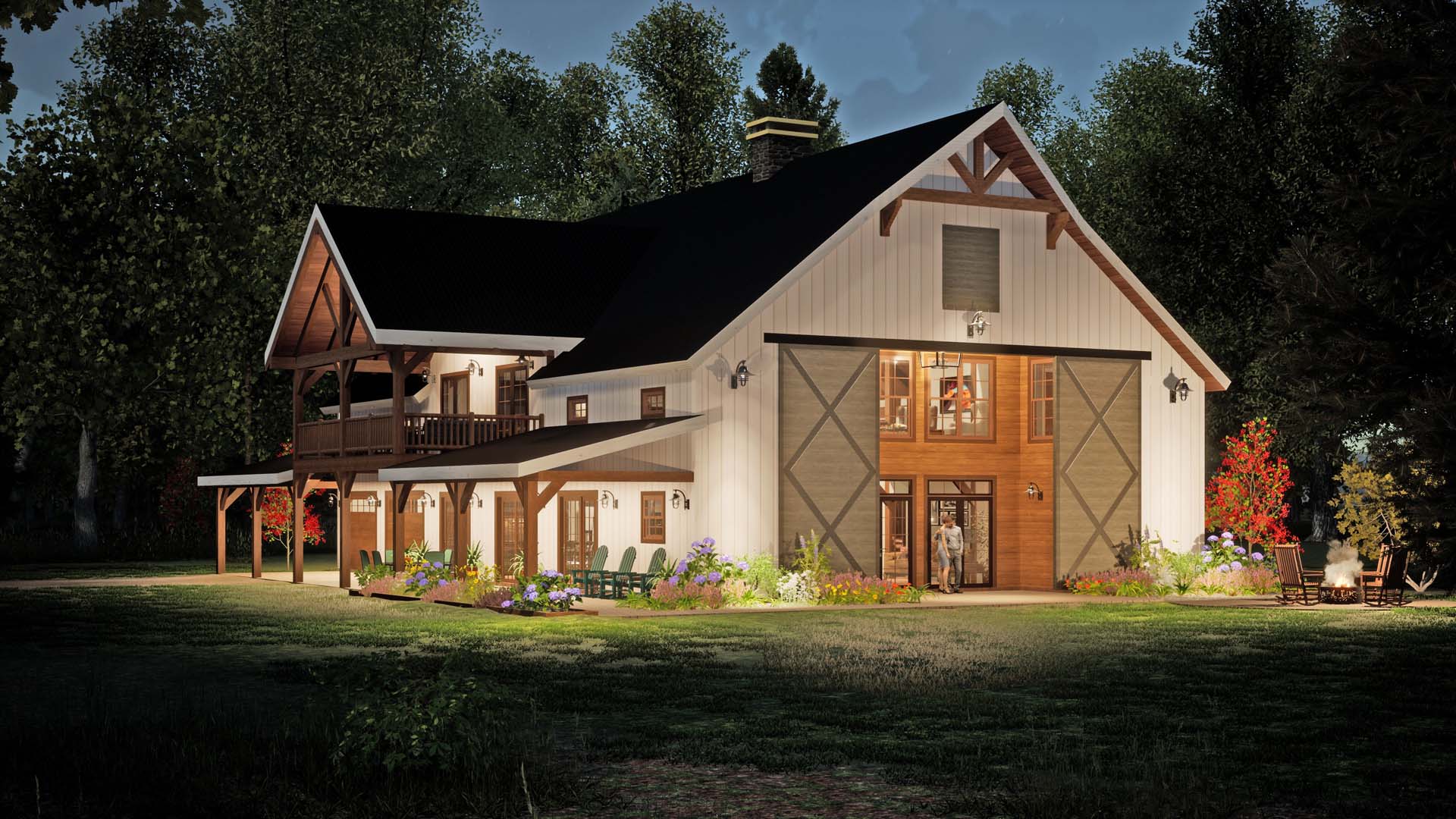 Barn Floor Plans & Barn Home Plans