Conventional construction, unconventional style…
Natural Element
Hybrid Homes
The best of all worlds…
A hybrid home utilizes conventional stick-built construction to provide the super structure of the home. Typically, some degree of timber frame is also included in the construction. The timber frame is employed in specific areas of the home where "the wow factor" is most desired, such as in the great room, kitchen and dining areas. The remainder of the home can be constructed without the use of timber or with limited use of timber.
Why is this so important? Flexibility and style. Perhaps you prefer the simple beauty of logs for your entrance, but want the drama of timber frame in your living room. Or you must have a stone fireplace in your living room. Using a combination of building techniques and structural or decorative elements, hybrid homes appeal to homeowners looking for the best of all worlds.
Taking "curb appeal" to a new level…
Natural Element
Hybrid Home Photos
A small portion of our hybrid home photos…
Hybrid Home Options

&

Style
Hybrid homes often utilize timber components such as timber trusses, timber accents and beams, and other decorative timber elements to provide the look and feel of timber frame without all the cost. The hybrid home is typically more cost-effective and offers maximum design flexibility:
Conventional stick-built enclosure provides the structure of the home
Structural or decorative timber or timber frame in parts of the home
Timber trusses, accents and decorative components used
Timber components may be used on the interior and the exterior of the home. The Hybrid Building System® was developed and trademarked by Natural Element Homes in the early 2000's. The hybrid home is our most popular building system.
Enjoy the guide to hybrid home style and finishing options below. For the best viewing experience, click the fullscreen button

in the lower right corner below…
Choose From Unique
Natural Elements

…
Over 40 available sidings
Timber Frame Porches & Outdoor Rooms
Knotty Juniper posts
Natural sawn woods
Skip-peeled posts
Barky log sidings
Natural taper posts
Rusted barn tin
Mountain ivy twig railings
Tobacco stick railings
Hand-split Cedar Shakes
Specialty Sidings
Copper, Iron, Stone

Hand-hewn beams
Antique beams and logs
Reclaimed beams
Recovered beams
Historical Reclaimed Woods
Bark sidings, posts, & rails
Wormy Chestnut
Fresh sawn beams
Wire brush finishes
Barn wood materials
Reclaimed brick
Log Wall Systems for additions
Timber Frame Accents
Plan ahead for your dreams…
Popular
Hybrid Home Floor Plans

from Natural Element Homes

These are just a few of our many hybrid home plans. We've got lots more, and we love to customize them!
Single Level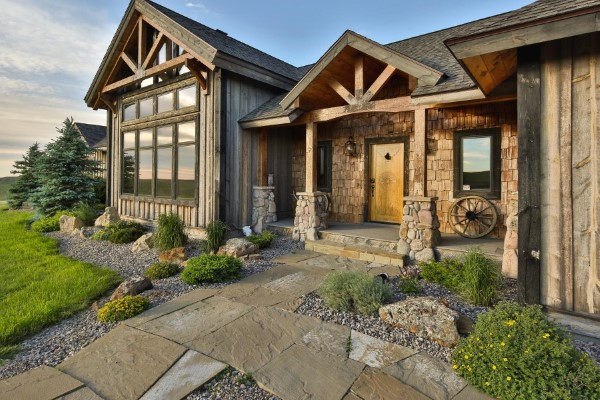 Shamrock Ranch
– 4 Bedrooms
– 4 Baths
– 2,738 SF Main Level
– 2,738 SF Heated
– 1,268 SF Porch / Deck
Ready for customization (call 1-800-970-CABIN)
–
Lots of Natural Elements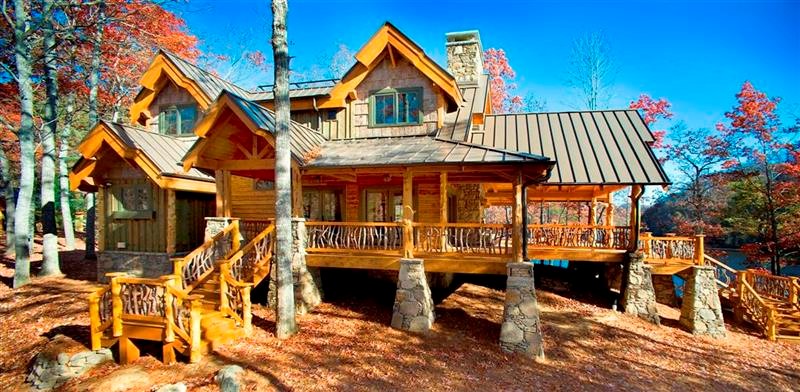 Mount Olive Retreat
– 2 Bedrooms
– 3 Baths
– 1,011 SF Main Level
– 854 SF Upper Level
– 1,791 SF Porch / Deck
Ready for customization (call 1-800-970-CABIN)
–
Large Floor Plan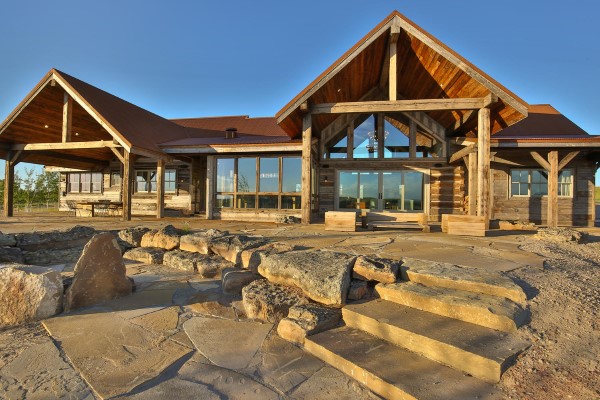 Lucky Man Ranch
– 5 Bedrooms
– 5 Baths
– 3,541 SF Main Level
– 731 SF Upper Level
– 1,534 SF Porch / Deck
Ready for customization (call 1-800-970-CABIN)
–
Any Plan…
The Way You Want It

!

Our Virtual Design Center allows you to collaborate at every step of the design process and immediately view the effects of any design changes you're considering. You view your plans online and speak directly with your designer as you watch your changes being made onscreen in real time. Next you'll be able to view a 3-D model of your altered floor plan, and you can take a virtual "tour" of your redesigned house to see just how it will look and feel.

The best part is you don't have to operate any software; just sit back and watch as your dreams and ideas move a step closer to reality. Check out the demo video here!
Today

is the Day!

There are several considerations when choosing a home company to work with, but none are more important than the culture of the company. Our culture is one of effectiveness, honesty, innovation, and quality. We are different. We don't just provide great hybrid homes, we provide great experiences in planning, designing and building your home of homes, so feel free to dream. Our ultimate goal is for you to tell your friends and family that we did a great job for you. At Natural Element Homes, we choose to do the following:
Follow a strict code of ethics
Grade our logs and timbers to ensure quality
Provide a construction manual for clients and builders to illustrate proper construction techniques
Provide innovative ideas to hybrid building technologies
Provide free information and advice to make smart choices
But we don't stop here. We have never been satisfied to simply follow the group of log and timber home companies. We much prefer to lead the way, and we do. You are probably like us, and you want your log home to not be just like everyone else's. If so, we may be perfect for each other. People who choose a Natural Element Home want something different, a home that is a notch above the usual cookie-cutter design and reflects their taste and lifestyle. We help you create a home that is uniquely you. Our customers have the need for a pleasurable, stress-free experience that is comprehensive in nature (everything needed — not just bits and pieces). We are truly a one-stop-shop and either provide or facilitate everything needed to build a new home. We have in-house design services, log and timber manufacturing facilities, and a network of builders covering the USA. We also facilitate site planners, interior designers, lighting professionals, financing options, solar and geothermal professionals, landscape architecture, and green building standards. Everything you need is under our roof!
Contact Us
Get started designing your dream home today…
We are halfway between Chattanooga and Knoxville in eastern Tennessee.
I-75, Exit 60. 8am – 5pm M-F, 10am – 4pm Saturday, closed Sunday.