Timber Frame
EZ
Luxury Timber Frame Homes the
EZ

Way

Introducing Timber Frame EZ from Natural Element Homes, the easy way to build a custom, luxury Timber Frame home. We're making Timber Frame home design and construction faster, simpler, and more affordable. Featuring a diverse array of custom home plans, Timber Frame EZ offers many "starting points" for you to choose from. Use this starting point as a base for your own customizations, and configure our base package to incorporate your own wants, needs, and tastes.
Plans added regularly. Check back often!
Timber Frame EZ plans feature custom, pre-configured packages sporting top-quality, warrantied building materials. Packages can be customized, and the price can be adjusted up or down according to your customizations. For the custom, high-quality Timber Frame home of your dreams, choose Natural Element Homes and Timber Frame EZ!
Foundation and Concrete
Prepared on-site by builder before package is shipped
Not included in package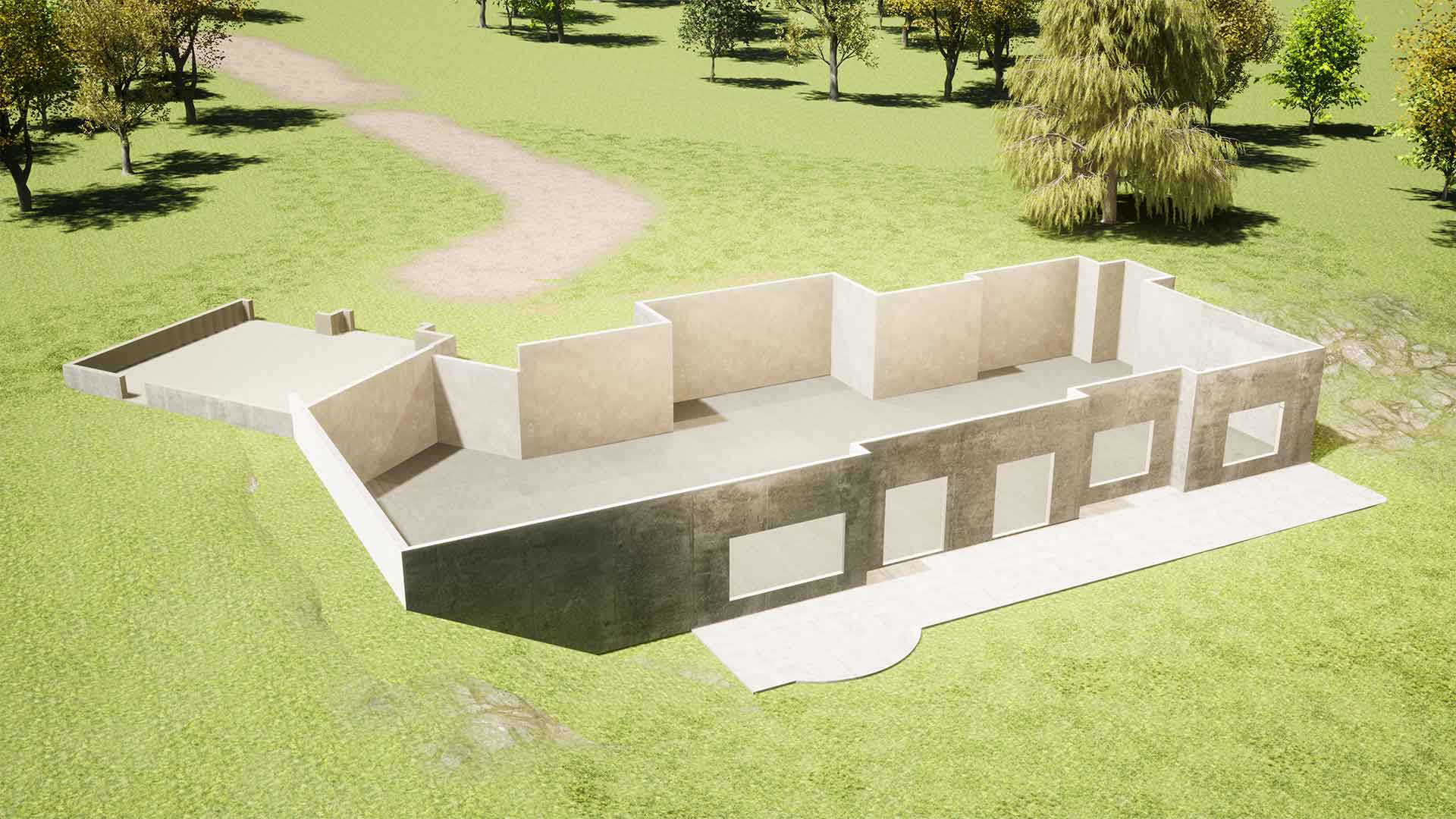 Floor Systems
Main Subfloor: Pre-manufactured Open Web Trusses
Deck and Porch Floors: Treated Pine Framing
Second Floor: Pre-manufactured Open Web Trusses, I-Joists, 2 x 12, or Heavy Timber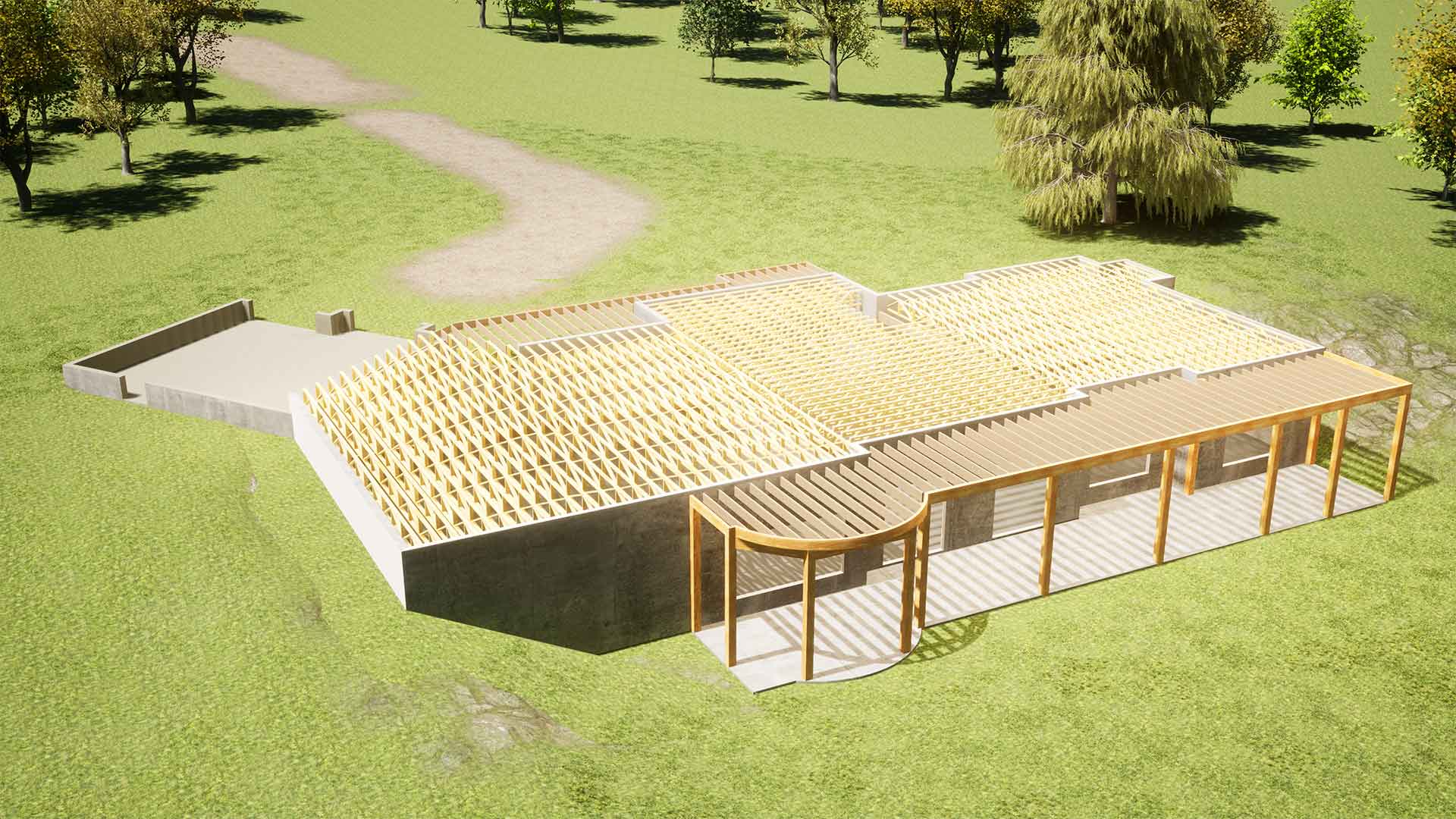 Floor Sheathing
Premium Huber Advantech ®
Premium LP Legacy ®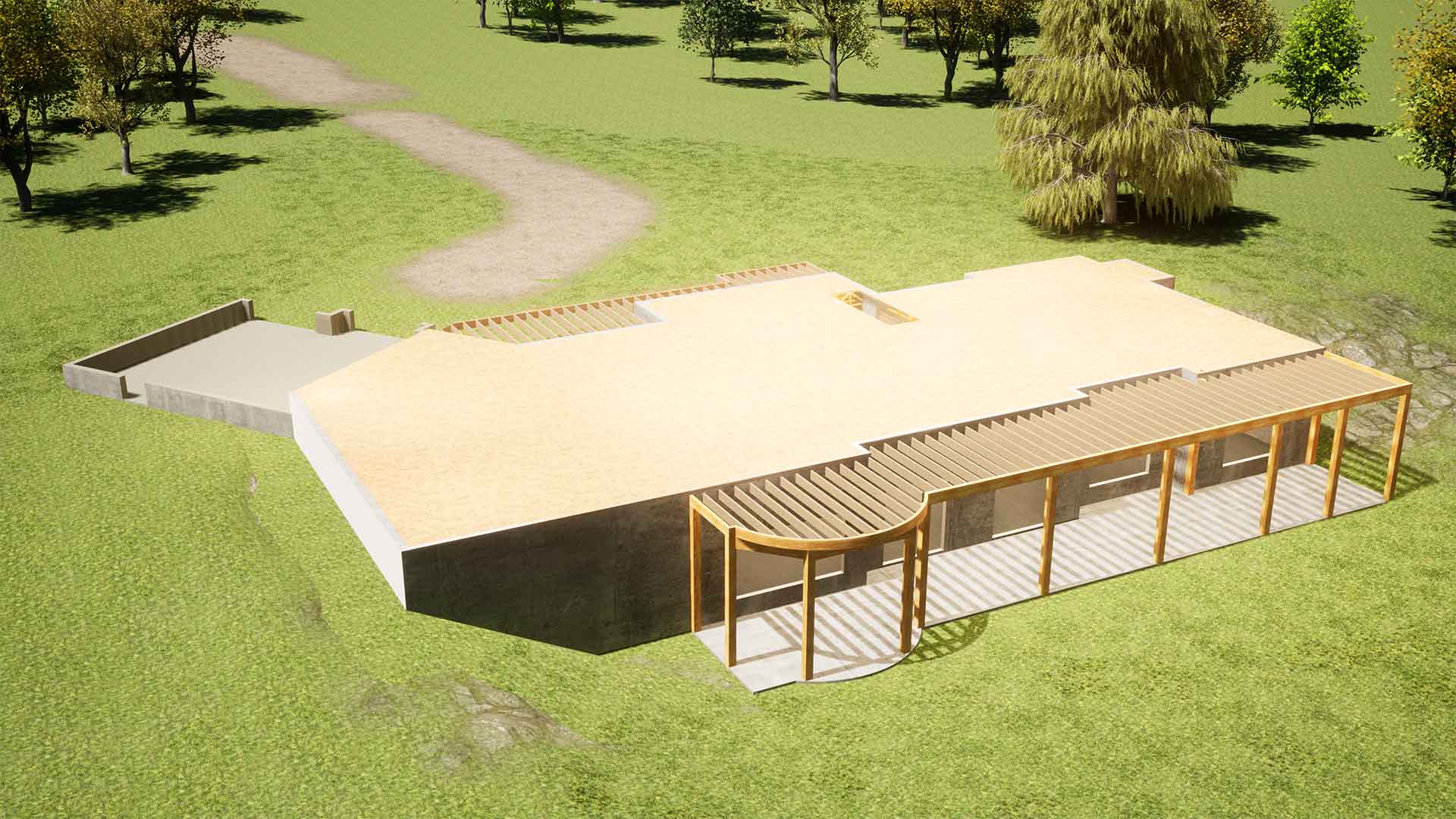 Douglas Fir Timber Frame System
Factory pre-cut with mortise-tennon-pegged joinery

1 & Better grade old-growth timber (grade before surfacing)
Planed smooth finish with continuous ¼-inch chamfered edges
Pegs, screws, concealed fasteners, post bases, splines, and hardware for installation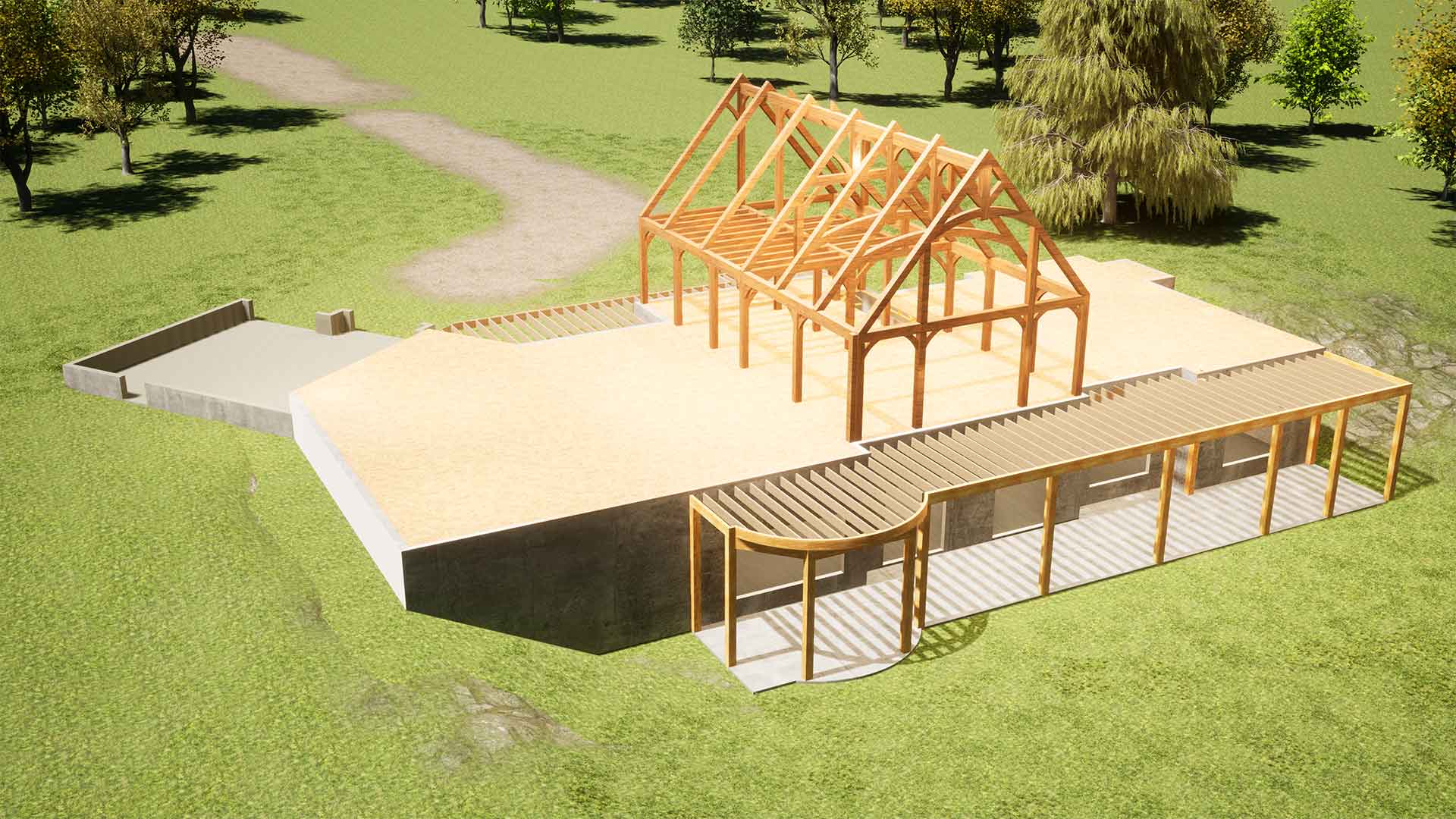 Wall Systems
2×6 exterior wall framing on 16-inch spacing
2×4 interior wall framing on 16-inch spacing
Main level walls for house and garage
Upper level walls for gable ends and dormers of house and garage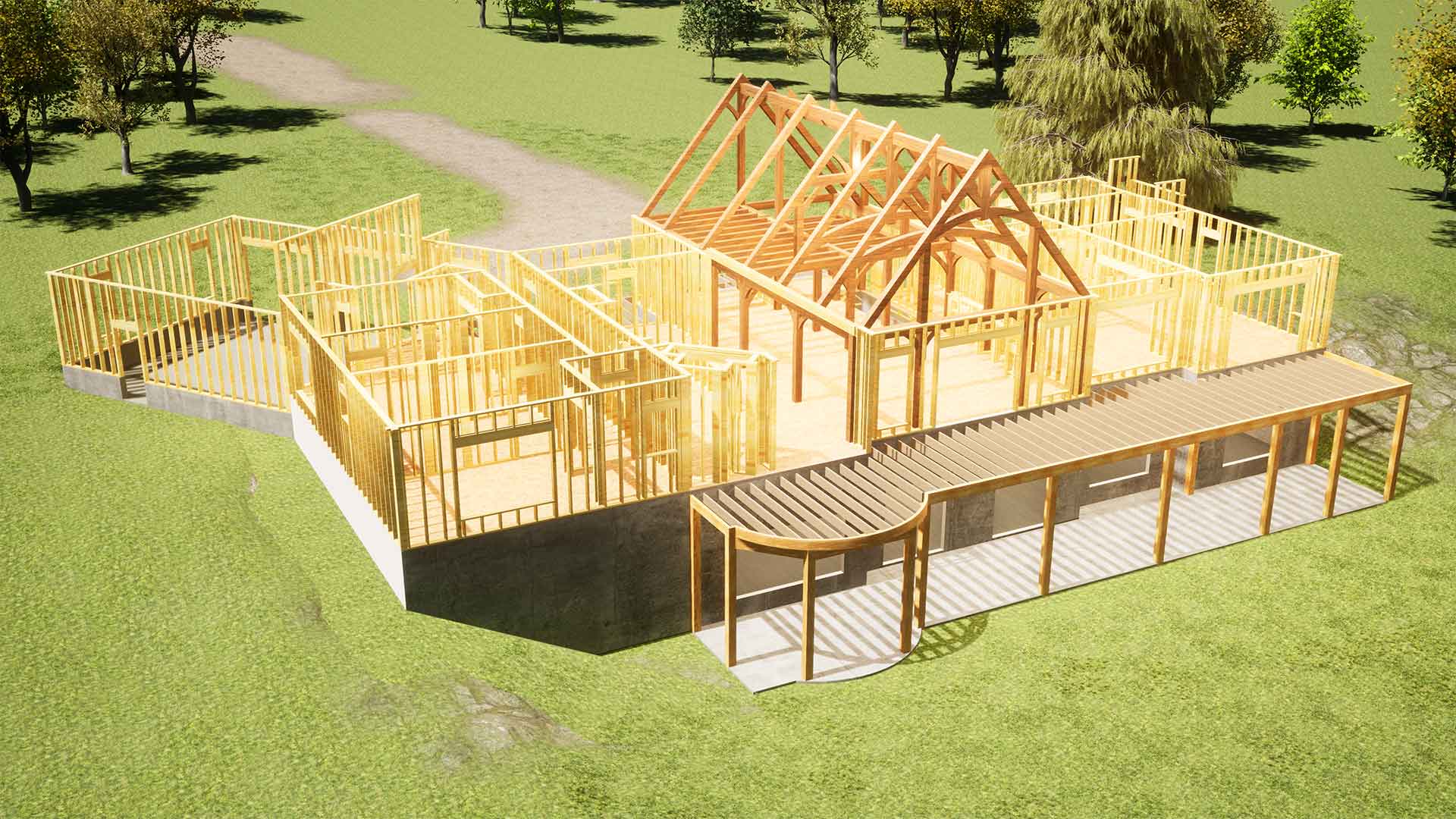 Roof Systems
Pre-manufactured trusses
2×12 stick framing
Heavy timber framing with SIPs Panels
I-joist framing
Adjustments for local snow loads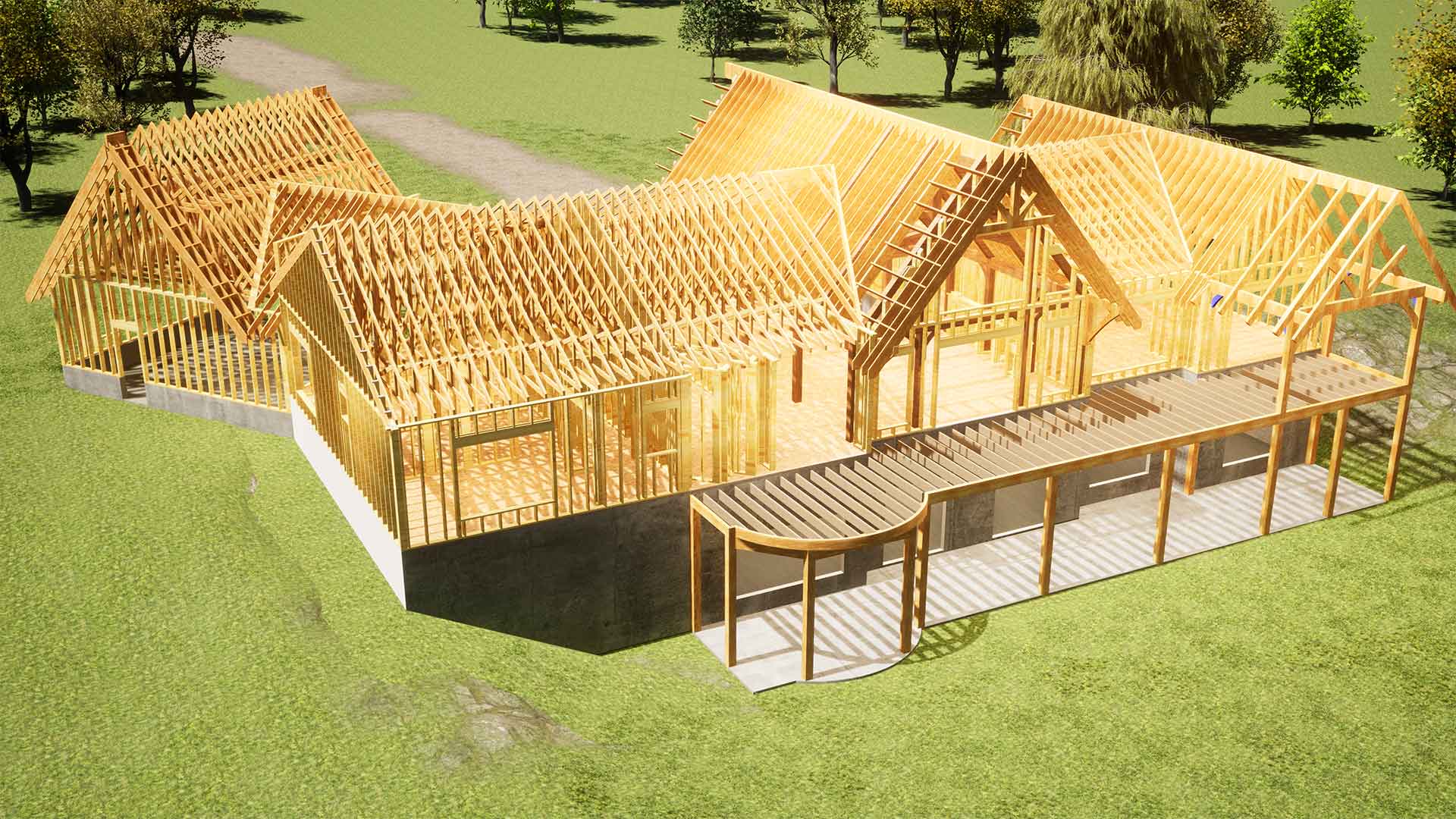 Premium ZIP Panel Wall and Roof Sheathing
ZIP sheathing
ZIP tape
No need for messy house wrap
Ready for finished roofing shingles, metal, shakes, etc.
Finished roofing is not included in package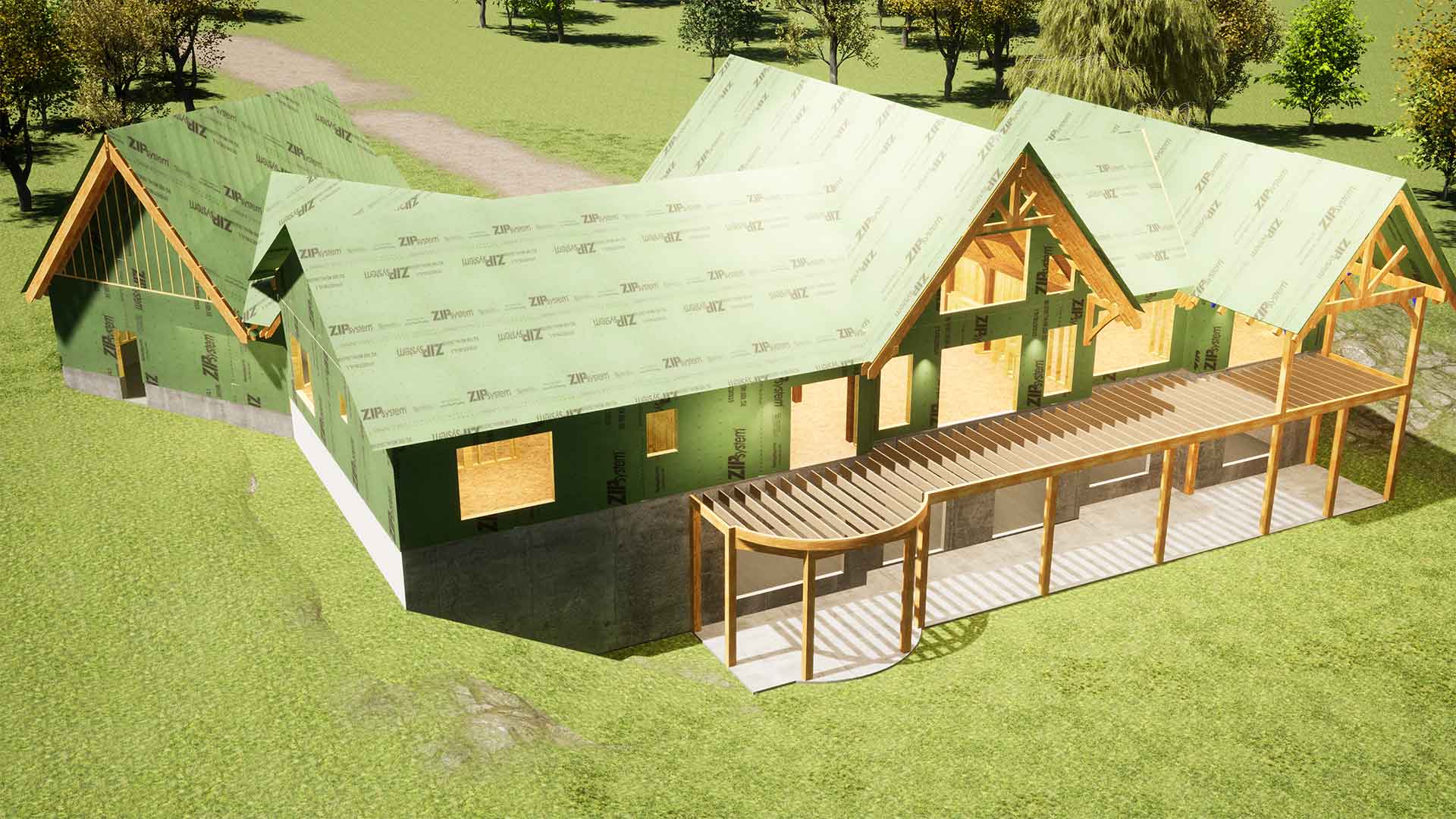 Exterior Doors and Windows
Pella Lifestyle® Exterior Doors and Windows
Aluminum clad exterior
Wood interior
Energy Star Rated
Warranty
Many Colors
Other brands and series available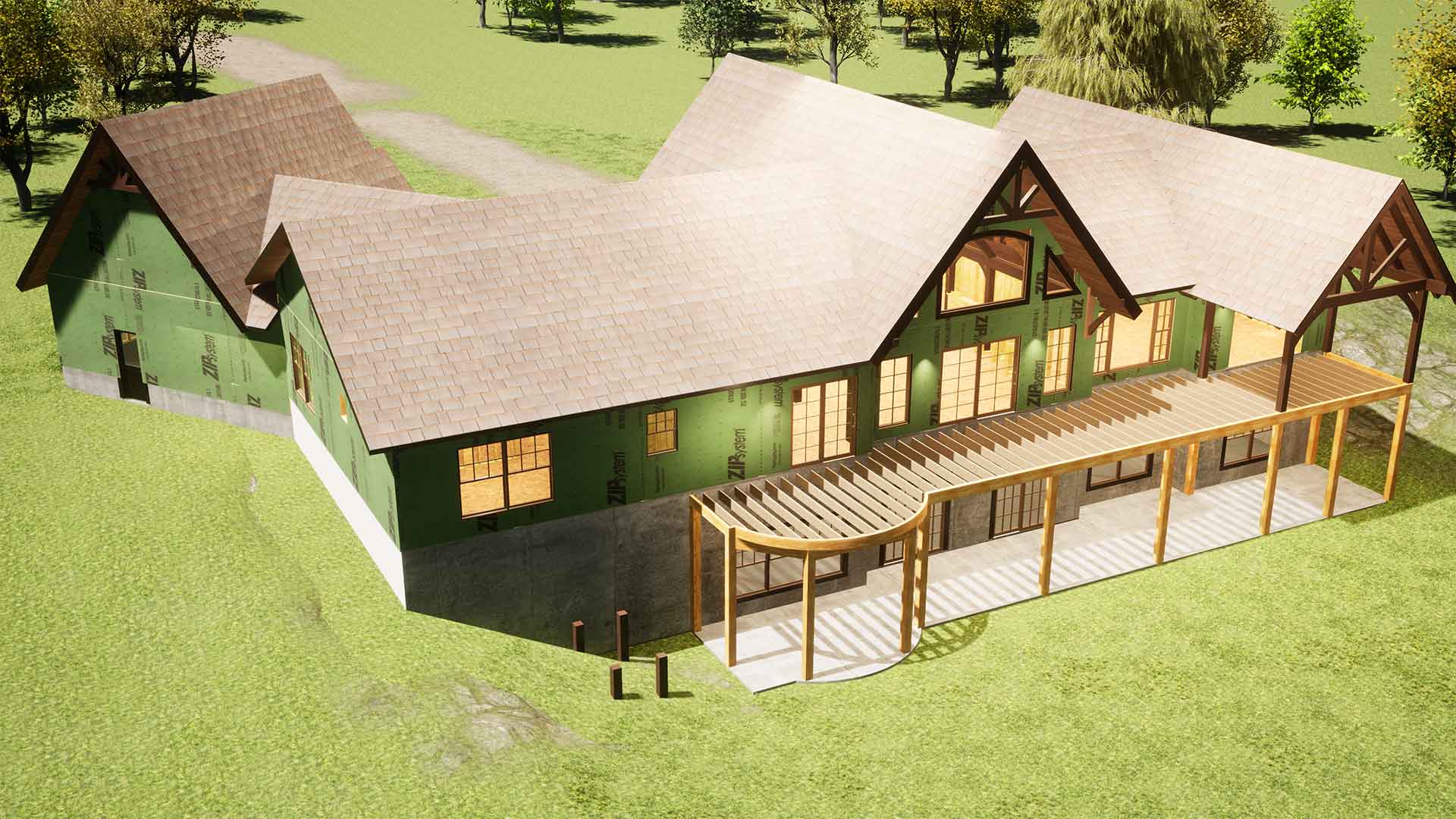 EXTERIOR PORCH AND DECK FLOORING AND RAILING
Composite Decking (2-color)
Heavy timber exterior rail construction
Baluster options:

Wire panels, wood, metal, twigs, cable, and more
Exterior steps may be added to package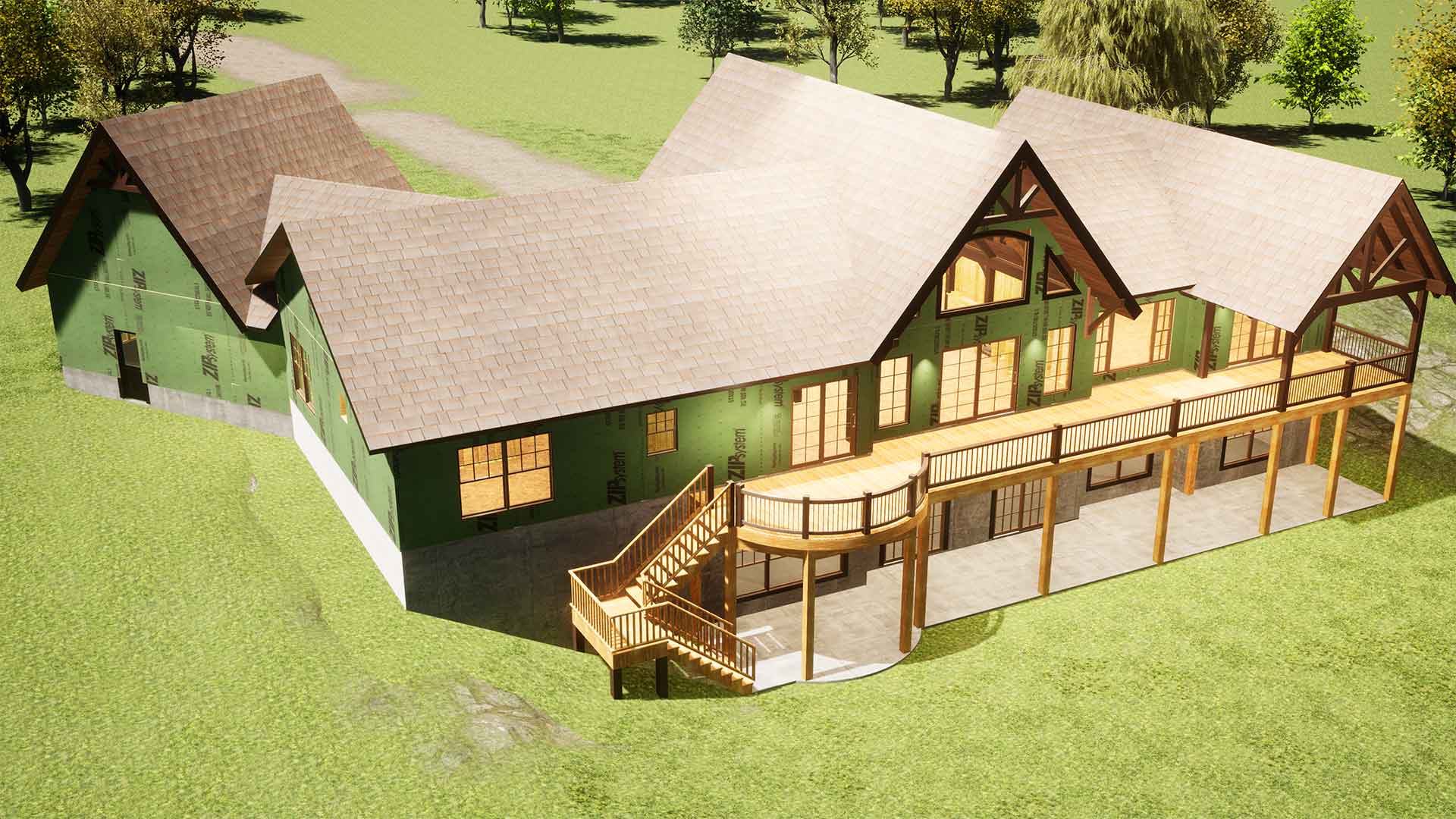 EXTERIOR SIDING AND TRIM
LP Smartside – Shakes, Board-and-batten, Lap Siding
Allura Fiber Cement – Shakes, Board-and-batten, Lap Siding
Many other options: Wood, various species, low maintenance, concrete sidings, stone, brick, bark, and many more.
Wood T&G Soffit
Finish Fascia boards, band boards, Frieze boards, corner boards, window and door trim, etc.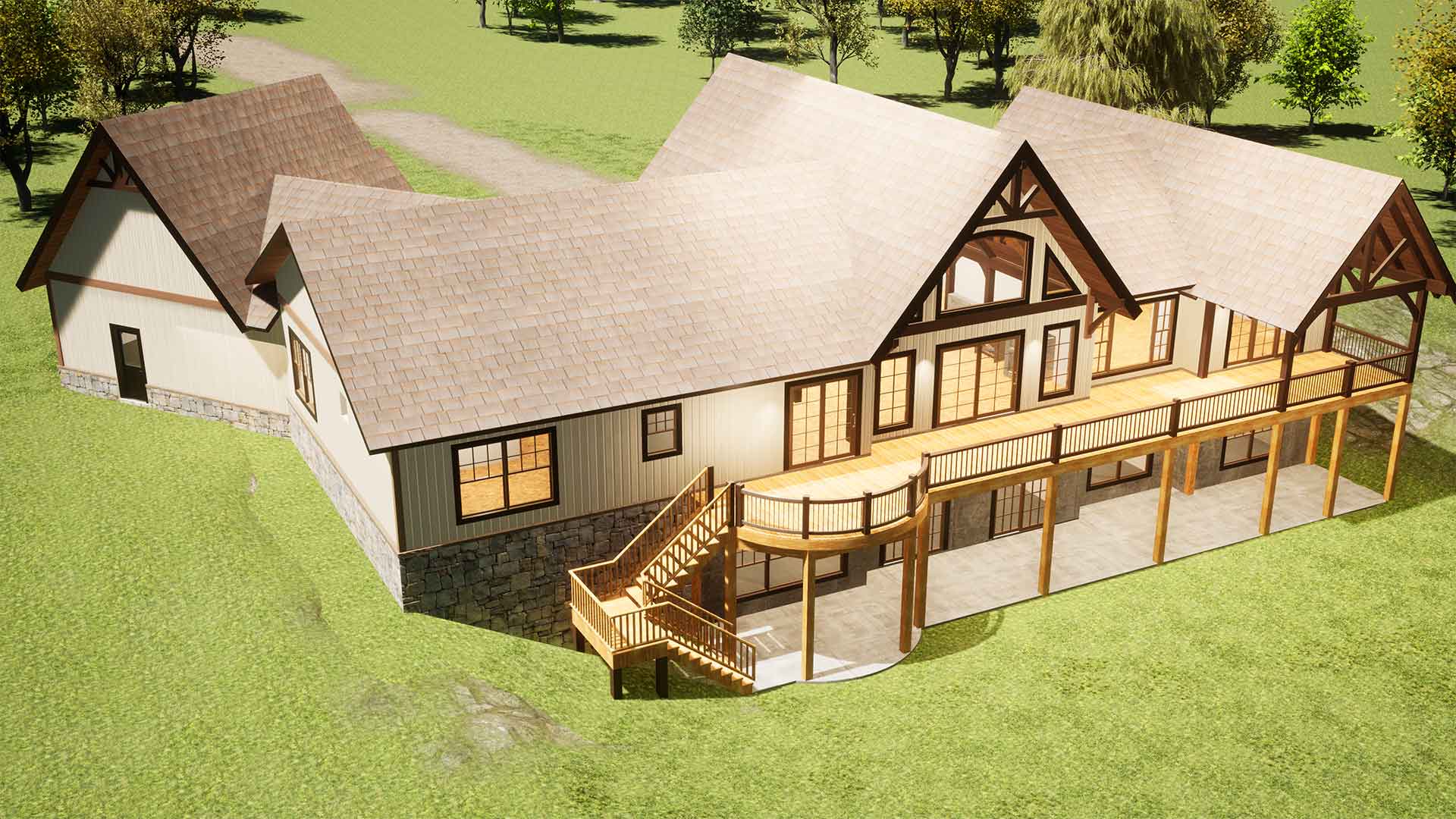 INTERIOR ITEMS
Heavy Timber Stairs
Heavy timber railings
Interior wood ceilings in select areas
DELIVERY OF MATERIALS
$1 per loaded mile per truck must be added
Ships on tractor/trailers to as near jobsite as road conditions allow
Unloading and storage of materials by others
HOME PLANS
3D Design
Virtual Design Center
Customization Included
Final Construction Plans
Local Engineering Stamp, if required, is at an additional cost
EZ to Love
The value that big wooden beams and traditional timber frame craftsmanship bring to your living spaces and everyday living can not be overstated. There is actually some science behind the impact natural materials make on our well-being, and sharing this specialness with family and friends is immensely rewarding. It has been our pleasure to bring these special homes to our customers. The decision to live uniquely, the choice to build a Timber Frame EZ will bring you joy, satisfaction, and potentially a little well-being will be part of the good benefits.
EZ to Live In
Timber framing has offered us a new and unique way to build homes that is far more conducive to modern living than many other home systems. It is plain to see that one of the reasons timber frame homes have garnered the attention they have is because they naturally create the large open living spaces we prefer to live in. Gone are the days that we built separate small rooms for dining, cooking, and living. We like to gather and enjoy one another's company in spaces that accommodate this togetherness. It's a natural match, timber frame construction allows for the open spaces we love to live and gather in.
EZ to Grow With
It is often heard that "we want to grow old in this home", "this is our last house and I/we want to live out my/our remaining years in this home." This is something that is considered with great care by our designers at Natural Element Homes. Design to allow for one-floor living, and sometimes details like elevators, and other design systems that allow for living out life in comfort and with ease. We know that once you've chosen to live uniquely, like the bell that can't be unrung, it's hard to go back to regular home living. We know it's something you want to hold onto as long as you can. At NEH we understand this and seek to make long-term living in your specialty home as graceful as is possible.
EZ to Gather In
Timber frame homes are a natural for families and friends to gather and be together in. We build a lot of homes that are designed for such gatherings. Dining areas that can accommodate large family dinners and reunions. Great rooms that can get everyone in for the big game parties. It has always amazed me how open spaces, that are not much bigger than a regular home in their total living area, actually live large and can accommodate great gatherings, and at the same time, not so large that they feel empty in the more intimate times of your life. It is in the spirit of gathering that we design these spaces and that you can share and enjoy with all the people you love.
EZ to Customize
The hard part has been done. The home is designed to live well and present a timber frame in the best light. But we have been customizing homes to our customers' liking for as long as we've been building homes. Once we settle into a home plan you can work with our designers to make changes that are unique to your needs and to serve your life precisely. The timber frame can be customized in its species, look, and detail, and timbers can be added to other areas of the home to fit it out just to your liking. We know how to do this and we do it well. 
EZ to Build
Our Timber Frame EZ homes are designed using building systems that are familiar to most custom home builders. In so being, finding a builder becomes a much simpler task. Finding a builder who does not add lots of padding to his/her price to produce a home using systems that are complex or out of the comfort zone is much easier.
EZ to Budget
Whatever your home building budget, it is essential that we consider the timber frame in the context of your entire build and total budget. Timber frame EZ is an affordable starting point. It is also ready to customize with additional timbers, and in some cases, additional vaulting where timber framing may be valuable to you. This puts you in control of the budget, and gets you the timbered home you want, at a cost you can control. 
Natural Element

Timber Frame Homes
Timber frame homes feature large structural wooden beams visible throughout the interior which act as the structural skeleton of the home. The timbers are cut to fit together and connect with specialized joinery such as mortise-and-tennon connections held tightly together by wooden pegs. The timber frame serves the dual role of providing structure for the home as well as artistic beauty. Timber frame construction techniques have been used for hundreds of years throughout the world.
Natural Element Homes uses CNC equipment to produce high-quality, precision-milled timber frame systems. We offer Douglas Fir as our primary timber specie. We also use White Pine, Oak, Cypress, Western Red Cedar, and Southern Yellow Pine timber species. We produce both EPS and URE SIP panel systems to enclose our frames — keeping the elements out. Conventional stick-frame enclosures are also utilized.
Timber frame joinery is either cut by hand or by use of computer controlled machinery (CNC). Once the free-standing timber frame structure is assembled, the timber frame is wrapped to form the outer enclosure of the home. Common methods utilized to wrap a frame include Structural Insulated Panels (SIPs). The timber frame is wrapped with SIPs that span the large spaces between each timber of the frame.
SIPs are made by gluing a sheet of Oriented Strand Board (OSB) to both sides of a solid foam core to form one monolithic panel. Common foam core types include Expanded Polystyrene (EPS) and Polyurethane (URE). SIPs are typically pre-cut with CNC machinery to precisely fit the outside of the timber frame. SIPs are strong, energy efficient, and are known for their superior insulation capabilities.
Another common way to wrap a timber frame is to use conventional wood framing practices as common to a "stick-built" home — 2×6 framed walls and 2x framed roofs can be built around the timber frame to enclose it. True timber frame homes built in this manner will generally cost about 20–30% more than a conventionally framed home that does not utilize structural timber frame.
Total Design Freedom

Virtual Design Center
Our Virtual Design Center allows you to collaborate at every step of the design process and immediately view the effects of any design changes you're considering. You view your timber home plans online and speak directly with your designer as you watch your changes being made onscreen in real time. Next you'll be able to view a 3-D model of your altered floor plan, and you can take a virtual "tour" of your redesigned timber frame home to see just how it will look and feel.
The best part is you don't have to operate any software; just sit back and watch as your dreams and ideas move a step closer to reality. Check out the demo video here!